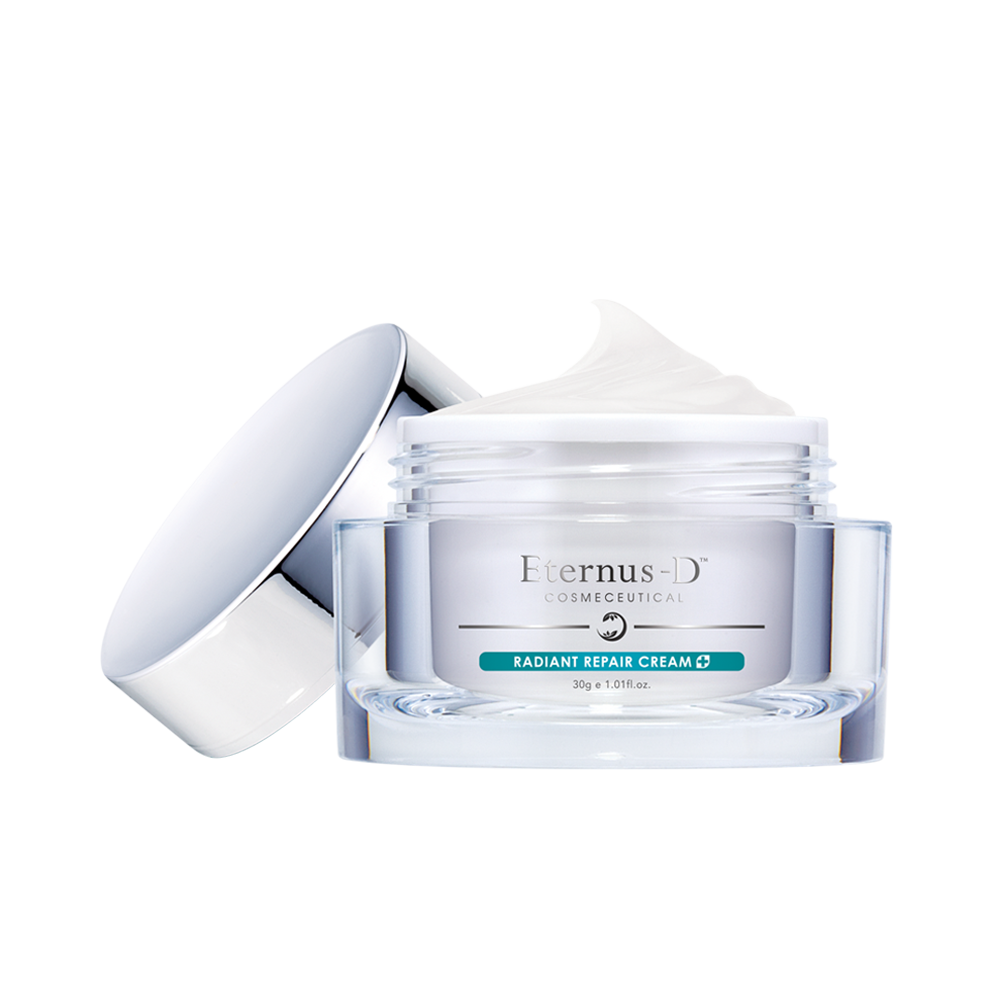 *pre-order 1-2 months* Eternus-D Radiant Repair Cream 30g 抗敏亮肌修護面霜 30g
深層滋養  修復脆弱敏感肌
容量:30g

主要功效
有效修復受損肌膚,改善粗糙、暗啞及毛孔粗大等多種肌膚問題。

深層滋潤,持久保濕,强效對抗極度乾燥肌膚。

防止黑色素沉澱,淡化色斑,回復肌膚亮白無暇。

抗敏消炎,快速舒緩泛紅、乾燥及痕癢等過敏症狀,呵護脆弱受損肌膚。
主要成分
大花馬齒莧幹細胞提取物 - 獨特水溶性提取物,能增强肌膚抗氧化能力,校正肌膚生理時鐘。改善肌膚粗糙、暗啞及毛孔粗大等問題,恢復肌膚健康平衡狀態。

植物多胜肽 - 360°抗衰老活性成分,已被證實可減少皺紋和改善肌膚彈性。有效修復受損肌膚細胞,並促進新膠原蛋白合成,提升肌膚防護力。

玫瑰果油 - 含豐富維他命、抗氧化及必需的脂肪酸成分,有效抵禦自由基,防止色素沉澱,淡化各類色斑並改善膚色不均,全面亮白肌膚。

琉璃苣籽油 - 具有消炎抗敏作用,快速舒緩鎮靜敏感肌膚。有助改善皮炎、痤瘡及濕疹等症狀,減少乾燥脫皮情況。同時强化肌膚水分屏障,深層滋潤並調理肌膚。
使用方法
早晚潔面後,取適量均勻塗於臉部及頸部,輕柔按摩至完全吸收。可配合精華液使用以達至最佳效果。
瑞士製造


Repair Fragile, Damaged Skin With Deep Nourishment
Size : 30g

Main Effects:
Repairs damaged skin effectively, improve problems like coarseness, dullness and enlarged pores.

Provides deep moisturization and nourishment against extremely dry skin.

Inhibits the accumulation of pigmentation and lightens spots for a glowing look.

Pampers fragile, damaged skin by fighting sensitivity and inflam, reliving symptoms like redness, dryness and itchiness.
Main Ingredients:
Vita Biorhythm - A unique water-soluble extract that can strengthen the skin against oxidation, adjust its biological clock, improve coarseness, dullness and enlarged pores, and restore its healthy balance.

BioNymph Peptide - An all-rounded anti-aging ingredient proven to reduce wrinkles and improve skin elasticity. It also helps repair damaged skin cells, stimulate the synthesis of collagen and enhance the skin's barrier.

Rose Hips Oil - Rich in vitamins, antioxidants and necessary fatty acids that help fight free radicals, inhibit the accumulation of pigmentation, lighten spots and improve uneven skin tone for a healthy glow.

Borage Seed Oil - Relieve and calm irritated skin rapidly with anti-sensitive and anti-inflammatory powers. It can also help improve symptoms of dermatitis, acne and eczema, etc., and reduce flaky skin from dryness by strengthening the water barrier of skin, providing deep nourishment and conditioning the skin.
Directions:
Every morning and evening, smooth over thoroughly cleansed and toned skin of face and neck using a gentle ascendant motion.
Made in Switzerland